Home
Talk

48
1,016pages on
this wiki

Welcome to the Abridged Territory

The Wiki that covers all of the abridged universe that anyone can edit. Before you start going around making half finished and horrible articles please read Stuff to know before you start making articles and look in Category:Example for how we would like some of the articles to be formatted. While we do appreciate the information you give us, it would help us even more if it were organized properly. Check out the forums for announcements. Thank you.
1,016 articles since May 2009
Featured Article
Girls und Panzer Abridged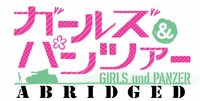 Girls und Panzer Abridged is an ongoing abridgement of the 2012 sleeper hit Girls und Panzer, a show so long (12 episodes), it was begging to be shortened. It was created by GunmetalSTuG and several of his friends (whom he affectionately refers to as his team).
Girls und Panzer Abridged completely eschews the original show's plot about a ragtag group of friends coming together in a heart-warming underdog story about friendship and finding your own way in the world. It is instead about a group of lazy, drug-addled, borderline sociopathic high school girls who are forced to compete in the Tankery Team by a bloothirsty and psychopathic Student Council President.
Site Updates
Nothing out of the usual.
Not sure where to start?
Find out more about the wiki on the About page.
Adding content
Talk and more...
Check out the community portal to see what the community is working on, to give feedback or just to say hi.
Or head on over to the forums and coordinate with the community on editing, projects, and more.
Did You Know...
...that Alternate Reality Dragon Ball Z currently has the most episodes of any abridged parody out there?

...that there have been over 6 forums devoted to abridging?

...that ThornBrain deleted all his articles off this site when he left the abridged community?

...that The idea for Ranmarotto's Bleaching in the Name Of happened after he had nightmare featuring the characters doing similar things to what they do in the parody series?

...that you should suggest random abridging trivia so we can fill this section out?

...that you should suggest random abridging trivia so we can fill this section out?
New Episodes on YouTube
Loading RSS data...
For more, click here.