Welcome to the Abridged Territory

The Wiki that covers all of the abridged universe that anyone can edit. Before you start going around making half finished and horrible articles please read Stuff to know before you start making articles and look in Category:Example for how we would like some of the articles to be formatted. While we do appreciate the information you give us, it would help us even more if it were organized properly. Check out the forums for announcements. Thank you.
1,149 articles since May 2009
Featured Article
Sword Art Online Abridged (by Something Witty Entertainment)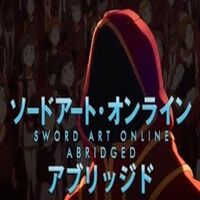 SAO (Sword Art Online) Abridged is an abridged series by Something Witty Entertainment under the YouTube channel SWEabridged. It is a parody of the anime series Sword Art Online. The plot follows very closely to the original series, but characters are often quite different from their canon counterparts, and some even have different names.
Site Updates
(12/19/14): Please welcome our newest admin, Copley!
Not sure where to start?
Find out more about the wiki on the About page.
Adding content
Talk and more...
Check out the community portal to see what the community is working on, to give feedback or just to say hi.
Or head on over to the forums and coordinate with the community on editing, projects, and more.
Did You Know...
...that Naruto The Abridged Series was the second abridged series ever made?

...that The Council of Boosh and Goodies was the first real group formed in abridging?

...that Uraby210's One Piece Abridged has the most abridged episodes of One Piece completed?

..that given the amount of time it took for Mirai Nikki to be adapted into an anime, many people (excluding Zero-Q) began planning out ideas for their own abridged series years in advance. In anticipation of the anime receivng multiple parodies, Zero-Q titled his version "Mirai Nikki an Abridged Series" as opposed to the standard "The Abridged Series" (or TAS)?

...that you should suggest random abridging trivia so we can fill this section out?

...that you should suggest random abridging trivia so we can fill this section out?
New Episodes on YouTube
For more, please wait as we update our sytems.