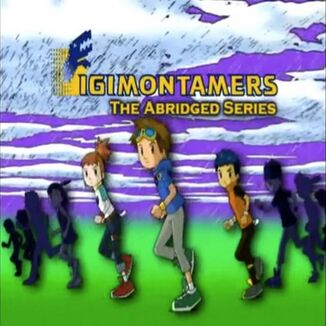 Digimon Tamers: The Abridged series is the second abridged series created by abridging group The Sunset Squad, following G-Gundam: (Yet Another) Abridged Series. The show is officially a series as of 2013 with the recent release of episode three. 
FaTerokiMenra as Henry, Renamon, Mr. Matsuda, Digivices
ReggoMenra as Takato, Guilmon, Kazu, Yamato, Calumon
EmilyBrontesaurus as Rika, Jeri, Kenta, Mrs. Kari, Mrs. Matsuda
thisguyducky as Terriermon
Episode One
Edit
Episode 1, titled "Takato Matsuda's Precious Little Life" after the first novel of the Scott Pilgrim series, aired in October of 2010. 
Episode Two
Edit
Nearly three years later (a fact they joke about), episode two was made and released with the following two episodes already in production. 
Episode Three
Edit
Titled "Guns N' Rabbits". Released on YouTube on July 16th, 2014.
Episode Four
Edit
Released on YouTube on November 30th, 2014.
Ad blocker interference detected!
Wikia is a free-to-use site that makes money from advertising. We have a modified experience for viewers using ad blockers

Wikia is not accessible if you've made further modifications. Remove the custom ad blocker rule(s) and the page will load as expected.