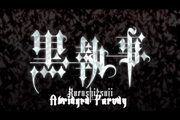 The Kuroshitsuji Abridged Parody is an abridged series for the anime Kuroshitsuji, also known as Black Butler. It was created by Keybladekid1245 and Fantasyrhia.
The series is posted on YouTube and Abridged Underground. Releases are about 2 weeks apart(1 week for editing + 1 week for scripting and voicing), unless there are problems.
Project is currently on Hiatus.
Keybladekid1245 - Ciel, Finny
DeidaraFangirl3579 - Sebastian
Fantasyrhia - Grell, Italian Guy (Episode 1)
YukiAnimeOtaku - Elizabeth, Meilin, Random Voice
BladeBlur - Bard
Kyol - Lau
NarutoLuvsBleach19 -William
Editing: Keybladekid1245 (She Currently uses Sony Vegas Pro 8.0)
Scripting:Keybladekid1245 & Fantasyrhia
Former Cast
Edit
JakatoX - Bard, Lau
Fantasyrhia 23:20, January 29, 2010 (UTC)
Ad blocker interference detected!
Wikia is a free-to-use site that makes money from advertising. We have a modified experience for viewers using ad blockers

Wikia is not accessible if you've made further modifications. Remove the custom ad blocker rule(s) and the page will load as expected.