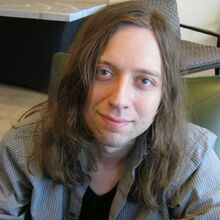 LordQuadros is an abridger and voice actor, best-known for his Metal Gear Abridged series and his portrayal of Solid Snake. He has been engaged to fellow abridger and voice actor Whip0fAlchemy since December 31, 2011.
Main Projects
Edit
One-Shots and Potential Pilots
Edit
Riders of the Robeasts - A parody of what Neon Genesis Evangelion's localization might be had it been handled by the likes of 4Kids Entertainment, DiC, or Nelvana.
Group Projects
Edit
Other Appearances
Edit
Ad blocker interference detected!
Wikia is a free-to-use site that makes money from advertising. We have a modified experience for viewers using ad blockers

Wikia is not accessible if you've made further modifications. Remove the custom ad blocker rule(s) and the page will load as expected.