Overview
Edit
Metal Gear Abridged is a meta-series of parodies created by LordQuadros covering the Metal Gear video game series. It began on April 26, 2008 with Metal Gear Solid: The Abridged Snakes, and since its completion, two sequel series (one still in progress) and two one-shot prequels (one having been divided into two videos) have been created. With the exception of the original MSX game parodies, the series' format largely favors cutscene footage over gameplay, though more gameplay footage has been utilized as they have gone on. Over time, the series has rewritten overarching plot elements of the original games to serve as a satire of abridging and YouTube monetization.
The entire series up until the present can be seen here in its original release order, or here in chronological order minus the original releases of Episodes 0-5.
Metal Gear Solid: The Abridged Snakes
Edit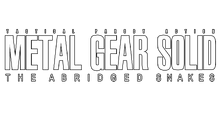 Metal Gear Solid: The Abridged Snakes premiered April 26, 2008. It served as a parody of Metal Gear Solid: The Twin Snakes, the Nintendo Gamecube remake of the original Metal Gear Solid game for the PlayStation. It started out very simply, being edited in Windows Movie Maker, but after the move to the more complex and open-ended Sony Vegas in Episode 6, the dialogue began to become more self-aware as well, until the final episode, in which abridged parodies were revealed by main antagonist Liquid Snake to be a central plot element. This would set the tone for the rest of the meta-series.
On April 4, 2011, almost three years after the original premiere, LordQuadros premiered the "HD Remix" versions of Episodes 0-5, which acted as full remakes of the original episodes with retooled dialogue and improved footage and editing. This was a spoof on the title of Super Street Fighter II Turbo's PlayStation 3 and X-Box 360 re-release. However, it was also something of a misnomer, as the footage he used for these episodes, despite being in much higher quality than that which he had used before, was not in true HD. For this reason, he removed the "HD Remix" qualifier and added "[CLASSIC]" to the original episodes.
In a nod to the infamous Psycho Mantis fight in the game that inspired it, the remade Episode 5 (which began with Mantis' off-screen defeat) was originally set only as an unlisted episode released at the same time as Episode 4 and accessible only to those who clicked the annotation link over Kojima's portrait during the scene in which Mantis prepares to assault Snake with fire. If the viewer failed to do so, Snake burned to death and Mantis' cry of "Blackout!" was followed by a false YouTube video removal notification. One week after these episodes premiered, Episode 5 was set to public status for those whose browsers did not allow YouTube annotations. The episode ended with a communications disruption used as a lampshade hanging on the differing sound quality and acting styles used in the episodes that would chronologically follow it.
The series, minus the original versions of Episodes 0-5, can be viewed here.
Metal Gear Solid 2: Sons of Abridgerty
Edit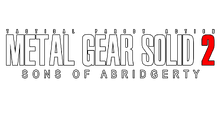 Shortly before April Fools' Day of 2010, LordQuadros released a short video entitled, "Metal Gear Solid 2: Sons of Abridgerty (Episode 0)," not the first April Fools' video with that title that he had released, but this one was an extremely shortened account of the Tanker Incident from the game Metal Gear Solid 2: Sons of Liberty, supposedly written as a snow-job by the series' shadow government, the Patriots. Then, on April 13, 2010, the series began in earnest with Episode 0 once more acting as a condensed summary of the Tanker Incident, but largely from the point-of-view of Solid Snake and Otacon this time around.
Episode 1, the beginning of the Plant Chapter of which the vast majority of the original game consists, premiered on April 29, 2010, exactly one year after the same event was purported to take place in the game proper. Unlike its predecessor, Metal Gear Solid 2: Sons of Abridgerty began with very clear intentions towards its underlying meta-story, with constant hints and revelations painting the Patriots as the secret governing body behind all major media conglomerates, and culminating in a plot revolving around the core elements of web parodies and their transformation into a potential enterprise.
The series can be viewed here.
Metal Gear Abridged
Edit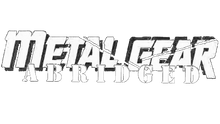 On November 7, 2011, Episode 6 of Sons of Abridgerty premiered and ended with Raiden asking Snake about the Outer Heaven incident. This led to Metal Gear Abridged being teased. Over half a year later, on July 1, 2012, it was released as a single 11.5-minute video parodying the original release of Metal Gear for the MSX2 Home Computer System. Due to the general lack of cutscenes in the original game, Metal Gear Abridged has the highest concentration of gameplay footage utilized of any entry in the Metal Gear Abridged meta-series. Unlike the series that it premiered midway through, Metal Gear Abridged had very little reference to web parodies and instead largely focused on the content of the game and its relation to its sequels and prequels.
The special can be viewed here.
Metal Gear 2: Solid Snake Abridged
Edit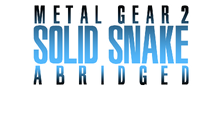 Metal Gear 2: Solid Snake Abridged was vaguely hinted at in the ending of Metal Gear Abridged, but was only officially teased on April 8, 2013, in the premiere of the remade Episode 3 of The Abridged Snakes. In this episode, the reappearance of Snake's former comrade, Gray Fox, causes Snake and Campbell to reminisce about the Zanzibar Land uprising.
The parody of Metal Gear 2: Solid Snake was released on January 8, 2014. Like the previous MSX2 game parody, it diverted from the fourth-wall breaking nature of the main series to focus on the game and its relation to the game series proper. This time, however, much more attention was paid to the story of the game than its gameplay components, largely due to the fact that there was a significantly increased story presence in the actual game. Due to its length, Metal Gear 2: Solid Snake Abridged was divided into two videos.
Part 1 can be viewed here, and Part 2 here.
Metal Gear Solid 4: Puns of the Patriots
Edit
On November 5, 2014, LordQuadros posted a video entitled, "Konami, Pepsi, & Doritos present: 2014 EXTREME PARODY SHOWCASE," which featured clips sent in by various parody creators depicting a world in which web parodies have become the driving world economy and simultaneously serve as a mass marketing tool. This ended with a new opening teasing Metal Gear Solid 4: Puns of the Patriots. This was in direct reference to the fake commercials and TV shows seen at the beginning of the game on which the parody was based, Metal Gear Solid 4: Guns of the Patriots. On November 26, 2014, the series officially premiered with Episode 0.
Puns of the Patriots centers on the world painted by the parody showcase video, in which armies are formed to fight proxy battles over abridged series. As the soldiers depicted in MGS4 were all employed by private military contractors (PMCs), in Puns of the Patriots, they are instead with private abridging contractors (PACs), and are known as PAC-Men. Consequently, the death sound from the original arcade Pac-Man game is played whenever they are killed.
This parody is still in progress, but can be viewed here.
| | |
| --- | --- |
| LordQuadros | Solid Snake, Big Boss, Gray Fox, Kyle Schneider, Drago Pettrovich Madnar, Big Boss' Phantom, Roy Campbell (MG2:SSA, Ep. 0-5 of MGS:TAS, Reprised in MGS4:POTP), Holly White, Black Ninja, Number One Fan, Gustava Heffner, McDonnell Benedict Kazuhira Miller, Naomi Hunter, Liquid Snake, Mei Ling, Johnny "Akiba" Sasaki, Meryl Silverburgh (MGSTAS Ep. 2-5 Classic), Psycho Mantis, Smooth Larry, Revolver Ocelot, That Ninja, Handjob, Vulcan Raven, Hal "Otacon" Emmerich, Himself, Sergei Gurlukovich, Liquid's Arm, Raiden, Vamp, Sudonimm McPhayckneighm, Solidus Snake, Fatman, AI Colonel (MGS2:SOA Ep. 5 and onward), Huey Emmerich, Liquid Ocelot, Yevgeny Borisovich Volgin, Old Snake, Drebin 893, Laughing Beast, Raging Beast, Crying Beast, Screaming Beast, Screaming Mantis, Hostages, Private Sasaki, Shotmaker, Machinegun Kid, Hind D Pilot, Tank Driver, Captain Prospector, Private Stan, Randam Hcivorttep Ogard, Metal Gear Mk.II, Fire Trooper, Ellen Madnar, Dirty Duck, Jennifer's Brother, MG2 Narrator, Foxy the FOXHOUND Fox of Covert Ops, Running Man, Red Blaster, Johan Jacobsen, Kio Marv, Four Horsemen, Jungle Evil, Night Fright, Charlie Nash, Zanzibar Soldiers, Genome Soldiers, Kenneth Baker, You, Commercial Guy, Julio, Crows, The King of All Comedy Forever, Gurlukovich Soldiers, Marines, Navy SEALs, Cockroach, Satan, Adolf Hitler, Arsenal Personnel, Arsenal Tengu, Ivan Raidenovich Raikov, George Washington's Ghost, Irritated New Yorkers, PAC-Men, Little Gray, Ed |
| Whip0fAlchemy | Meryl Silverburgh (Since The Abridged Snakes Episode 12. Reprised in the remade episodes and Puns of the Patriots), Sniper Wolf, Olga Gurlukovich, Rosemary, Fortune, Mr. X, Hal Jr., Raging Raven |
| Megami33 | Emma Emmerich, Sunny Gurlukovich |
| Takahata101 | Roy Campbell (From The Abridged Snakes Episode 6 until Episode 12), AI Colonel (Until Sons of Abridgerty Episode 5) |
| adamwestslapdog | Metal Gear RAY |
| GuitArchon | Jonathan |
| Lii0Lionheart | Haven Trooper, Crying Wolf |
| l0rdmegatron | Laughing Octopus |
| Chicknwings | Himself (Filling the role of Richard Ames) |
| NathanGraves989 | Himself (Filling the role of President James Johnson) |
| Paul Eiding | Big Teddy |
| CardboardLawyer | Phoenix Wright, Maya Fey, Miles Edgeworth, Navy SEAL |
| LittleKuriboh | Iruka, Naruto |
| PrinceRoy | Decoy Octopus (Remake), Morgan Freeman, Crows, Scott Dolph, Peter Stillman |
| Unwardil | Hank (Lift Unit) |
| Ezekieru | Ted (Lift Unit) |
| KaiserNeko | Greg (Lift Unit) |
| cheesemanjoe | Jimmy (Lift Unit) |
| Juu-kuchi | Jim Houseman |
| Shadowfoxx85 | Navy SEAL |
| Azurada23 | Navy SEAL |
| Carlitonsp1 | Navy SEAL |
Ad blocker interference detected!
Wikia is a free-to-use site that makes money from advertising. We have a modified experience for viewers using ad blockers

Wikia is not accessible if you've made further modifications. Remove the custom ad blocker rule(s) and the page will load as expected.