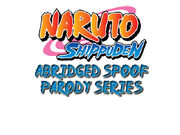 The newest Naruto Shippuden abridged series (it is hard to get an exact estimate of how many abridged series of this anime there actually are). While little is known about this series so far it is known that this series is made by a team of 8 people

History
The youtube channel for this series(www.youtube.com/user/NarutoSASPS) was made in early Febuary 2011 and for a long while there was no sign of any activety from the channel. Originally comprised of 3 people the team grew to 8 in July of 2011.
The team
.MHLUNA24: Founder, Voice Actor, Writer, Producer
.MrEJH92: Founder, Voice Actor, Writer, Producer
.YumiAnimeFreak4Eva: Voice Actress
.Smartcat (bookworm4life) :Voice Actress, Writer
.carbon7e (blackismetal101) : Voice Actor,Video Editor
XvXBLOODXvX:Voice Actor
TheAzureCrow (Semisoma1) :Voice Actor
Nisinator1:Voice Actor
Promo

On March 25th 2011 the team realeased a 5 minute promo video. the cast of the video is as followed
MHLUNA24
thumb|300px|left|Promo for the series
.Gaara
.Shino
.Sai
Shikamaru
.Narrator
Smartcat
.Temari
.Hinata
.Ino
On 29th May 2011 the team released their first episode. It was probably one of the longest pilot episodes for an abridged series at 11 Minutes. It was generally well recieved by viewers thanks to it being very well edited and well voiced by the cast. It also featured a cameo from well known abridger purpleeyeswtf. thumb|300px|left|The first episode of the series.

On 3rd July 2011 the team released its 2nd episode. This video had superior editing to the first and also featured a cameo from Charlie Sheen.

thumb|300px|left|The 2nd episode. Entitled "Ninja Pwned"www.youtube.com/user/NarutoSASPS
Ad blocker interference detected!
Wikia is a free-to-use site that makes money from advertising. We have a modified experience for viewers using ad blockers

Wikia is not accessible if you've made further modifications. Remove the custom ad blocker rule(s) and the page will load as expected.