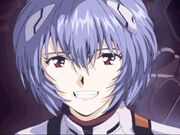 An amateur voice actress who wandered into abridging, her abridging status is currently unknown.
Abridging Roles/Appearances
Edit
Ryoko Asakura - DevilTrigger555's The Melancholy of Haruhi Suzumiya Abridged Series
Rei Ayanami, Yui Ikari - ThePRPD's A Parody of Evangelion
Bianchi - LeeroyJenkinsStudio's Katekyo Hitman Reborn Abridged Series
Sakaki - RyoViga's Azumanga Daioh Abridged Series
Shiina Tamai - ChibaRyou's Shadow Star Narutaru Abridged

She has been cast as more various abridged roles, but almost none have actually come out.
Ad blocker interference detected!
Wikia is a free-to-use site that makes money from advertising. We have a modified experience for viewers using ad blockers

Wikia is not accessible if you've made further modifications. Remove the custom ad blocker rule(s) and the page will load as expected.