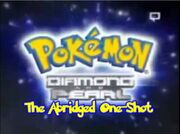 Pokemon The Abridged One-Shot is a parody made by the cast of Bakugan New Vestroia Abridged, BNVA, and TheAnnoyingBadGuyz make a parody on Pokemon. By given info by one of the cast members they said it was just an idea made by MegaDragon520 made up in September. Then was made as an entry for SOSabrdged Contest.
Cast: Uchihan Hotshot, Megadragon520, fanofstarwars22221, blakstar10 , roddyster (BakuganNVAbridged), BlackSangre247, and FengZeXiao
Ad blocker interference detected!
Wikia is a free-to-use site that makes money from advertising. We have a modified experience for viewers using ad blockers

Wikia is not accessible if you've made further modifications. Remove the custom ad blocker rule(s) and the page will load as expected.