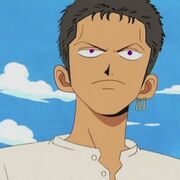 Nick Lizzo, better known as PurpleEyesWTF or Purps, is the creator of Code MENT, a parody of Code Geass, and None Piece, a parody of One Piece.
Code MENT Edit
PurpleEyes started in 2009 with his original Code Geass Abridgement. After the production of episode 6 he revised his series and started from scratch, changing the name to just "Code MENT". He took down his old series, but left up the old version of episode 6. In total he has made 16 episodes, not counting the second version he made of episode 13. 
None Piece Edit
In January of 2011, he started abridging the anime One Piece, dubbing his abridged series "None Piece". None Piece proceeded to become very popular and caught the eye of LittleKuriboh, who made a guest appearance in the third episode of the series. The series has become very popular with the first episode reaching 2 million views. This is also an abridgement series rather then a normal abridging shown by the fact its plot is different to the actual One piece manga/anime.
The Crossover Edit
In the end of October 2012, PurpleEyes made a crossover episode of his two series, calling it a fanfic and excluded it from the storylines he was creating with either of his two series. He also made a crossover between Soul Whatever,None piece and Code MENT called None piece-episode 5-7 (One version).This is also an abridgement series like Code MENT and None Piece
Soul WhateverEdit
Purps has only made 2 episodes of Soul Whatever called  Soul Whatever: Documentary uploaded November 28 of 2012, and Soul Whatever: Third earth uploaded April 10 2014.
Single-episode projects Edit
In addition to his biggest projects above, he has made the single-episode project named Pokemans: The Adventure.
CollaborationsEdit
In late 2014, Purps and Faulerro worked together to produce "The Pursuit of Happiness", a video that combined the universes of Purps's Code MENT, None Piece, and Soul Whatever, and Faulerro's Nullmetal Alchemist and Danganronpa Abridged Thing
Special episodesEdit
In 2010 Purps uploaded videos Old version episode 6 which was episode 6 of his original Code Geass Abridgement in the description of the video he states that the new episode 6 is better. HD origins which is Suzaku attempting to explain the creation of HD to Lelouch and ends up making many illogical statements none of which are accurate with Jeremiah interfering later. Halloween rules-Code Ment which has Lelouch explaining the rules of halloween to Suzaku but they are rules Lelouch has made up. He then uploaded Code Ment PSA-TAC where Jeremiah tells Suzaku and Lelouch what the TAC's are.