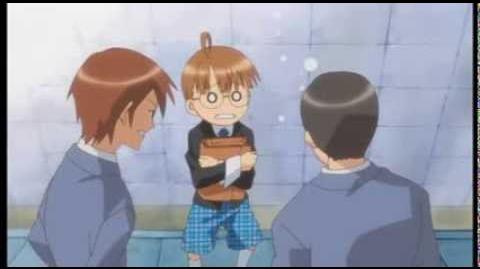 Shugo Chara! The Super Short Abridged Series was created by DinosaurcardsFTW, with the goal of becoming the longest running abridged series on youtube. SC!tSSAS gets uploaded every saturday and normally is less than 5 minutes.  
Running Jokes
Edit
- Amu is ignorant of a lot.
- Tadase and Ikuto yell at each other randomly.
- Ikuto is commonly mistaken for a cat.
- Nadeshiko is gender impaired.
- Kukai calls Amu his Servant Maid.
- Nadeshiko enjoys Dancing.
- Kukai is actually from wales, but spends a lot of time watching Xcaliborg videos. 
- Utau is addicted to incest.
- Kairi is really the only sensible one out of the entire cast. 
- "Tadase Hotori" "Tsukiyomi Ikuto!" "Tadase hotori!" "TSUKIYOMI IKUTO" *silence* "MEOW!" (Tadase and Ikuto remeet)
- "Hello Kitty Cat" "No, you're a cat." "No, I'm an Ikuto." (Amu and Ikuto upon meeting)
Ad blocker interference detected!
Wikia is a free-to-use site that makes money from advertising. We have a modified experience for viewers using ad blockers

Wikia is not accessible if you've made further modifications. Remove the custom ad blocker rule(s) and the page will load as expected.