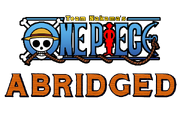 TeamNakama is a group of voice actors, fandubbers and writers from across the internet coming together to express their love for a fantastic series as well as flex their chops in their given fields.
Originally formed by Sabien and OmegaOptimusSupreme, Zombifaction usurped Sabiens writing position for the first episode. Since then Sabien and Fishdragon have joined the writing staff for the series.
Aussieroth07
RaventailBlacktalon
RhapsodyDusk
Anath Jackson the 3rd
Haruhost
mR apoK4LYPZE
The cast for TeamNakama's OPA spans 2 continents and 3 countries.
Aussieroth07 is known for having a demonicly deep voice and dreams of professionally voicing Sephiroth.
Sabien also starred as Jaden Yuki in Yu-Gi-Oh DMX.
mR apoK4LYPZE is a rapper by trade.
Ad blocker interference detected!
Wikia is a free-to-use site that makes money from advertising. We have a modified experience for viewers using ad blockers

Wikia is not accessible if you've made further modifications. Remove the custom ad blocker rule(s) and the page will load as expected.