The Adventures Of Tintin Abridged

Creator

Starring

Debuted On

Run

28th July 2011 - present

Episodes

1 (both parts)
The Adventures Of Tintin Abridged (also known as DrMircow's The Adventures Of Tintin Abridged or Tintin Abridged) is the title of My Name Is Mircea Inc.'s abridged series based on the The Adventures Of Tintin, made by Ellipse Programmé and Nelvana. Like many abridged series, The Adventures Of Tintin Abridged takes the personalities of each character to their extremes and conveys the original plot, showing the ridiculous oversight of many characters within each episode. Unlike previous abridged series from My Name Is Mircea Inc., it is the first one to be an actual series from the start.
Initially, DrMircow came up with the idea after he watched the trailer for Steven Spielberg's The Adventures Of Tintin: Secret Of The Unicorn film. As a result, he noticed the vast possibilities of abridging the show. Moreover, due to the show's nature, he could then experiment with new approaches in abridging.[1] DrMircow is a fan of the books and TV series.[2]
First Episode
Edit
The first episode consists of two parts, both which abridge the entire episode of The Crab with the Golden Claws.
On 28th June 2011, the first part of the episode entitled "Episode Pilot" was uploaded on YouTube which was positively received by the YouTube and abridged community. Shortly after the release of the first part, DrMircow announced on Twitter that the second part was under development.[3] It was later released on 18th September with more or less the same positive feedback as the previous part.[4]
On 11th October 2011, it was announced on Tumblr that there will be at least two more episodes.[5] Contrary, in an interview by mattroks101, DrMircow said that there will be at least three more episodes; all as two-part episodes.[6]
As the name suggests, The Adventures Of Tintin Abridged is a dramatically shortened down version of the original series, cutting each episode down from its original twenty/forty minutes.
Each episode more or less follows the same plotline from the original episode with a few changes for comic relief and parody's sake.
The humour of the series has constantly varied and expanded from its original premise. Rather than just making fun at the original series, other elements have been added throughout time to the parody.
The main trademark of the series is the broccoli which is used throughout the episodes as a fearful food and Captain Haddock's worst nightmare. The series is also known for mocking some aspects of the original show.
The series is also known for playing different songs from the original Tintin soundtracks to suit the mood of certain situations.
List Of EpisodesEdit
Season One
Edit
Episode 1 : Episode Pilot (both parts)
Episode 2: Unknown [

planned]

Episode 3: Unknown [planned]
CharactersEdit
As expected in a parody, the characters for the series have similar personalities to their original counterparts; however, most aspects are greatly exaggerated.
ProtagonistsEdit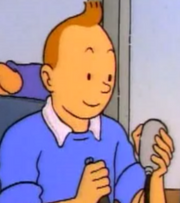 In the abridged universe, Tintin is a young reporter who is drawn to dangerous international intrigues in which his quick thinking, bravery and chronic good luck save the day. However, Tintin shows signs of naivety and idiocy throughout his adventures. Almost every adventure features Tintin sent off to investigate an assignment, but rarely does he actually turn in a story without first getting caught up in an adventure. His most loyal friend is his dog,
Snowy
. He meets
Captain Haddock
in Episode 1 where he joins Tintin's side and ultimately becomes his best friend.
In the first part of Episode 1, Tintin showed signs of drug addiction when he sniffed some hidden drugs on the "TheLulzBoat" ship. Moreover, he can be seen in the second part of the episode being glad finding even more drugs in Allan's new hideout. However, it is presumed that he is addicted and the incidents could have been only a coincidence.
Captain HaddockEdit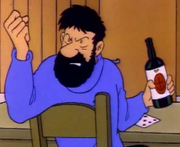 In The Adventures Of Tintin Abridged, Haddock is a rum-loving captain. He was the captain of the "TheLulzBoat" ship, a merchant vessel used, without Haddock's knowledge, by his first mate Allan Thompson for smuggling drugs inside crab tins. As a result, he joins Tintin's side and becomes his new friend too. Because of his alcoholism and temperamental nature, he is characterized as weak and unstable, at times posing as great a hazard. He is also short-tempered, given to emotional and expletive-ridden outbursts, and capable of infuriating behaviour.
Haddock's biggest fear is broccoli; something which was seen in Episode 1. Ironically, he was attacked by one in that episode and eventually started puking, farting and dumping more broccoli later in the second part. He also confirmed during the aeroplane crash that he is somehow scared of rain due to making him drown.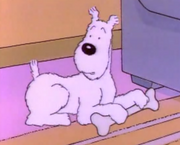 Snowy is a white Wire Fox Terrier and Tintin's four-legged companion who travels everywhere with him. The bond between Snowy and Tintin is very deep and they have saved each other from perilous situations many times. He resembles the original Snowy from the original show.
Because he does not speak, we do not know much about his past or his preferences.
He saved Tintin's life when he was chasing Allan with their speedboat.
AntagonistsEdit
Allan ThompsonEdit
In the abridged universe, Allan was Haddock's first mate before he betrayed him for smuggling drugs on the "TheLulzBoat" ship without his knowledge. He is also the first antagonist in the series. Due to Tintin foiling his plans, he development a new hatred towards him and his former friend, Haddock, who ultimately joined Tintin's side. That was shown in first part of Episode 1 when he confined Tintin in a chamber and sent a Captain Walker to kill them after they escaped off the ship. In the end, he was caught during a speedboat chase by Tintin, with some luck from Snowy, at his hideout somewhere next to a desset.
One of Allan's unique abilities is his "dramatic look" technique which resembles the one used in Dramatic Chipmunk's video.
His full name was only mentioned in the second part of Episode 1.
Captain Tom WalkerEdit
In The Adventures Of Tintin Abridged, Captain Tom Walker is a pilot resembling Tommy Wiseau from The Room who worked for Allan and who mainly tried to stop Tintin and Haddock from escaping from the ship in Episode 1. Luckily for them, they tricked and caught him in his own aeroplane. Later on, during a heavy storm, he managed to escape and jumped off the aeroplane. He ultimately died after a parachute malfunction at the age of 41.
At the end of the second part of Episode 1, a small sequence was dedicated to him as a tribute for his The Room quotes and references. However, he was credited as Captain Walker instead of his full name, Tom Walker.
Mark is the leader of people living in the middle of the desert. He was the one who told Tintin where Allan was hiding. He made his first and last appearance in Episode 1.
Theme TuneEdit
The Adventures Of Tintin Abridged uses a shorten down version of the original intro from The Adventures Of Tintin but with a heavy metal version of the original theme tune.
SoundtrackEdit
The Adventures Of Tintin Abridged is known for using soundtracks in its episodes. Currently two scores have been used in the series. What follows is a list of the scores:
   Afroman - Because I Got High
   The Who - I'm Free

   Audiomachine - Sands Of Time
   The Police - Message In The Bottle
   Vangelis - Chariots Of Fire
   The Who - Behind Blue Eyes
   Yello - Oh Yeah
   The Who - Overture

Recurring JokesEdit
Captain Haddock's fear of broccoli.
ReceptionEdit
The series received positive feedback by the YouTube and abridged community.[7][8] It is regarded by many as My Name Is Mircea Inc.'s best series yet, surpassing the first project, Men In Black: The Abridged Series, in terms of quality. In the interview by mattroks101, DrMircow confirmed that this is his favourite solo abridged series yet and voted Captain Haddock as his favourite character that he has developed and to voice.[9]
ReferencesEdit
Ad blocker interference detected!
Wikia is a free-to-use site that makes money from advertising. We have a modified experience for viewers using ad blockers

Wikia is not accessible if you've made further modifications. Remove the custom ad blocker rule(s) and the page will load as expected.