The Devil is a Part-Timer Abridged

Created By

OverlordABRIDGED

OverlordABRIDGED Creators

Alifluro + justkyledavid

Run

09/09/13 - Ongoing

Episodes

11 + 2 OVA Specials

Link
The Devil is a Part-Timer Abridged
is created by Alifluro and justkyledavid, with episode 1 being launched on September 9, 2013. Both Alifluro and justkyledavid have their own individual YouTube channels, but decided to create a joint channel for this series, thus OverlordABRIDGED was created. The series is written and edited by both Alifluro and justkyledavid. The abridged series characters and plot points are kept relatively close to the original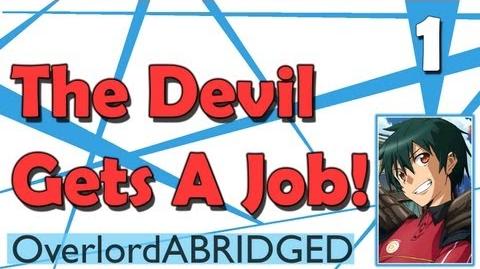 series.
Production
Edit
Both the creators were looking to start a new abridged series - Alifluro having already created one and justkyledavid looking to start his first - and so they put their heads together and decided to start one for a relatively new anime series (at the time) that they both loved: The Devil is a Part-Timer (or Hataraku Maou-Sama). 
They soon decided that they would also voice in the series as well, to reduce the number of extra cast members they had to bring in, and so it was decided that Alifluro would voice Emi Yusa, and justkyledavid would voice Lucifer. On June 13, 2013, the two posted an open audition video for all the remaining characters on their channel OverlordABRIDGED, as well as posting the audition call on the Voice Acting Alliance website. The interest they received was overwhelming, and it was difficult for them to cast in the end. The cast video was released on July 7, 2013.
The production of the first episode went a little slowly due to both Alifluro and justkyledavid being incredibly busy with the university year coming to an end, but they stuck to it and got the first episode up on September 9, 2013. The episode was received remarkably well, and justkyledavid and Alifluro were surprised by its popularity. This urged them to keep going and get episode's 2 and 3 done. There was a small delay on getting episode 3 out, due to the fact that it was around the holiday period, and much of the cast had gone away for the holidays.
On December 17, 2014, all seven episodes of the series were removed from the OverlordABRIDGED YouTube channel, due to copyright claims. This removal delayed the group's Christmas special, as they decided not to "take the chance with uploading something while we're not in the clear". All of the episodes were restored on January 9, 2015, and the delayed Christmas special was released on January 14.
Episode 9, like episode 5, was released via a Livestream Premiere, and included most of the cast members from episode 9.
After the longest episode delay in the series, episode 10 was released on November 2, 2015. The delay was due to the university schedule's of the creators, who had to take a hiatus of sorts.
Episode 11 was released on May 24, 2016. Episode 11 serves as part one to the finale. As such, episode 12 will be the last episode of the abridged series.
FrustratedRocka - Sadao Mao/Satan
SynK - Shiro Ashiya/Alciel
justkyledavid - Luci/Lucifer
Alifluro - Emi Yusa/Hero Emilia
LollipopProductions - Chiho Sasaki
Laikachi - Suzuno Kamazuki, Mayumi Kisaki
Kayli Mills - Rika Suzuku, Emeralda Etuva
TheOmega360 - Albertio Ende
Fairfieldfencer - Olba Meiya
Trina - Mikity, Extras
Earl of Bassington - Sariel, Extras
Angelegend - Emi's Father, Extras
Scar - Father Robertio, Extras
Valerie "Rie" Fee - Chiho's Mother, Extras
Eagle8burger - Malacoda
Episode list
Edit
| Episodes | Air Date |
| --- | --- |
| Episode 1 - 'The Devil Gets a Job' | September 9, 2013 |
| Episode 2 - 'Because of Reasons' | November 10, 2013 |
| Episode 3 - 'The Heat' | February 6, 2014 |
| Episode 4 - 'Feels' | March 27, 2014 |
| Episode 5 - 'Hole Hearted' | May 24, 2014 |
| Episode 6 - 'Investigate Don't Kill' | August 15, 2014 |
| Episode 7 - 'The Butterfly Effect' | Octover 9, 2014 |
| Episode 8 - 'Bad Recipe' | January 24, 2015 |
| Episode 9 - 'Thirsty' | April 19, 2015 |
| Episode 10 - 'Wet' | November 2, 2015 |
| Episode 11 - 'S'Peach'Less' | May 24, 2016 |
The creators of the abridged series (Alifluro and justkyledavid) are both Australian, and live together.
The voice cast are often praised for their interpretation of their respective characters - and it has been suggested that they could pass for the official English dub voices.
The character who reads the disclaimer for each episode also appears on the video's thumbnail, as well as the ending credits 'subscribe' message. Each 'subscribe' message at the end of the video is tailored to the characteristics of that character.
The opening song for the abridged series is "The Hell Song" by Sum 41. It was thought to be appropriate.
Alciel's character development has been strongly influenced by the way he is portrayed by his voice actor: SynK.
Alifluro struggles with high-pitched "kiddy" voices, so episode 4 was a "GREAT TIME" for her when she had to voice Young Emi. 
For multiple episodes LollipopProductions (Chiho) had to buy an attachment so she could record from her phone, as her computer had crashed.
Lucifer's accent is inconsistent, often alternating between and combining Australian, American, and British accents.
The cast and crew are made up of a mix of Australians, Americans, and Canadians.
Ad blocker interference detected!
Wikia is a free-to-use site that makes money from advertising. We have a modified experience for viewers using ad blockers

Wikia is not accessible if you've made further modifications. Remove the custom ad blocker rule(s) and the page will load as expected.