Transformers: Geewun Redone is an abridgment of the 1984 Transformers Cartoon. It is the first abridged series by Freddery McMahon. 
"With my last breath, I curse Bumblebee!"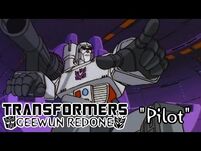 Episode List Edit
Characters Edit
Bumblebee:
Pretty much everyone hates him. Has an annoying voice.
Cliffjumper:
Chip:
Disabled teen who is strong enough to break a floppy disk in half. Has many superpowers, including mind control.
Hound:
Constantly left behind and forgotten by his group.
Jazz:
Mirage:
Lazerbeak:
Megatron:
Repetitive drum and base music is his favorite.
Optimus Prime:
Likes to party, and eat ice cream. Loves Classic Rock.
Prowl:
Ratchet:
He's a doctor, not a miracle worker
Ravage:
Meows a lot
Reflector:
Rumble:
Loves smashing things
Sparkplug W. :
Spike W. :
Can't read, dumps his crap in Bumblebee's room.
Soundwave:
Has many cassettes
Shockwave:
Skywarp:
Starscream:
Sunstreaker:
Speaks like Mario, Can do a special "bro attack" with Sideswipe
Sideswipe:
Can do a special "bro attack" with Sunstreaker called "Jet Judo".
Teletran-1:
Also know as "Teletran Jim". Very loud, got both the Autobots and Decepticons their Alt. Modes
Wheeljack:
He blows things up
Other Things
Edit
In the Pilot Megatron makes a reference to DR.BEES by Harry Partridge
In episode 1 Megatron has the word "PENUS" on his head for a few seconds after waking up
I am going to slowly update this to the best of my ability  
Ad blocker interference detected!
Wikia is a free-to-use site that makes money from advertising. We have a modified experience for viewers using ad blockers

Wikia is not accessible if you've made further modifications. Remove the custom ad blocker rule(s) and the page will load as expected.