Uraby210's One Piece Abridged

Creator:

Uraby210

Starring:

Uraby210
Munjeej
WispaGoldMS
Mr. Calm

Guest Starring:

Rabidfishy
Luffydaman91
martialmichael126
TheHydeisme
RobobPrime
FoulFangedFiend
TheFightingMongoose
purpleeyeswtf

Started

April 12, 2010

Status

Ongoing

Episodes

32

Website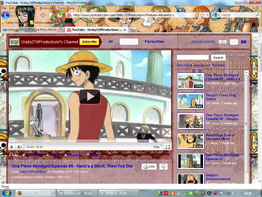 Uraby210's One Piece Abridged is a One Piece abridged series that debuted on YouTube on April 12th, 2010.
Participants
Edit
Uraby210 is the instigator, head writer and editor of the series. He voices Luffy and Sanji as well as many minor characters. He is also known for whisper acting. It's strange, check it out.
Munjeej
is the secondary writer of the series. He voices Usopp and many minor characters.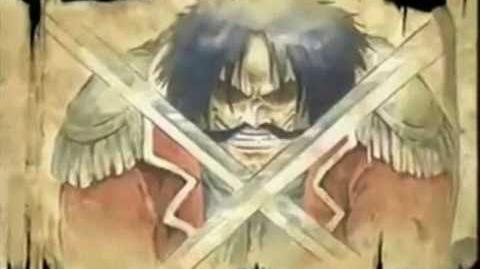 WispaGoldMS is a voice actress involved with the series. She plays Nami and most other female roles.
Mr. Calm is another voice actor involved with the series. He plays some minor roles, including Cabaji and Fullbody.
Other members of the team include Luffydaman91, who plays Tashigi, and MartialMichael126 (of Dragon Ball GT and Detective Conan Abridged fame), who plays Mr 3.
History & Production
Edit
Small Beginnings
Edit
The first appearance of the series was in March 2010, a trailer that consisted of the opening narration from Episode 1, with a title card at the end saying "Coming Soon...I promise".
Behind the scenes, at this point Uraby210 had already prepared scripts for the first three episodes and was ready to commence production. However, a friend (Munjeej) discovered the project and offered to help with voices and scripting. After reviewing Munjeej's work, Uraby210 appointed him as head under-scriptwriter, and also (at the former's request) cast him as Usopp.
Episode 1 was released on YouTube on April 12th. It covered the first episode of the One Piece animé. Episodes 2 and 3 quickly followed, covering the remainder of the Morgan Arc and the first episode of the Buggy Arc on April 16th and 25th respectively. Episode 3 was the first to feature Munjeej in a speaking role, as the mountain bandit Higuma.
Hiatus and Return
Edit
After the script for Episode 4 was prepared and finalised, production ceased for two months whilst Uraby210 moved house and purchased a new computer and microphone. A short video entitled "A Brief Interlude" informed the viewers of these events.
Soon after Uraby210 purchased his new microphone, he uploaded another video entitled "We Are...Back!" which served as both an announcement of the series's return, and a trailer for the forthcoming Episode 4.
Episode 4 was released on June 21st, and it covered the remaining four episodes of the Buggy Arc. It was an important milestone for a number of reasons, since it was not only the first episode to go over YouTube's then-limit of 10 minutes and so had to be split into two parts, but it was also the first full episode to be edited with Adobe Premiere CS5 as opposed to the first three episodes, which had been made with Windows Movie Maker (it was not, however, the first video to be edited with Premiere - that distinction is held by the Episode 4 trailer). Episode 4 was also the first episode to feature Mr. Calm in a speaking role, as Cabaji.
Disaster Strikes
Edit
On June 30th 2010, Uraby210's YouTube account was suspended. He responded by creating a new account called "Uraby210Productions". He then re-uploaded Episodes 1 through 4 with added disclaimers at the beginning of every video making it clear that he did not own One Piece or any associated content. He also posted a similar message on his YouTube channel.
To make it clear that he was not to be deterred by such inconveniences, Uraby210 pushed forward with the production of Episode 5, which covered the majority of the Syrup Village Arc. It was eventually released on July 4th, following a trailer a week earlier, which featured the first appearance of Munjeej in his main role as Usopp. However, Episode 5 was beset by problems at the editing stage, which resulted in a noticeable drop in video quality from 12 minutes and 36 seconds in until the end.
Carrying On Regardless
Edit
Episode 6, covering the final episode of the Syrup Village Arc, was released on July 18th, but soon after its release, Episodes 1 through 5 were taken down by YouTube. Seeing that it was impossible to re-upload the videos a second time, Uraby210 instead chose to create a DailyMotion account, where he uploaded all 6 episodes, and continues to upload each new episode soon after its YouTube release. However, Episode 4 was rejected by DailyMotion, and is currently the only episode not available to view on that site.
Episode 7, which covered the first episode of the Baratie Arc, was released on July 30th, but its release also saw the removal of Episode 6 from YouTube. By this point, YouTube had raised the video time limit to 15 minutes, so Episode 7 did not have to be split in half like earlier episodes. Episode 7 suffered severe sync issues when uploaded to YouTube. However, the DailyMotion version corrected this.
A special episode, "Ramblings From a Diseased Mind" was uploaded exclusively on YouTube on August 2nd. This consisted of Munjeej's warm-up material and general silliness that he had recorded (in character) in addition to his lines for Episodes 3 through 7 (possibly due to the influence of alcohol).
Episode 8 was released on August 18th. It covered the remainder of the first half of the Baratie Arc and was the first video to exceed YouTube's new limit of 15 minutes, and so had to be artificially sped up by 2%. Whilst this is not very noticable for the most part, it caused some sync issues towards the end of the episode. This effect is not present in the DailyMotion upload, since the limit on that site is 20 minutes, so no edits of that sort had to be made.
Episode 9 was released on September 1st. It covered the second half of the Baratie Arc.
Episode 10 was released in the early hours of September 22nd, after a slight delay in editing. It covered the first thirteen episodes of the Arlong Arc. Like Episode 8, the YouTube version had to be slightly shortened. It was the first episode to receive its premiere on DailyMotion before its premiere on YouTube.
Episode 11 covered the final episode of the Arlong Arc and the first episode of the Loguetown Arc, and was released in the early hours of October 2nd. It featured the return of Mr. Calm in the role of Fullbody (following some acting lessons and bribery).
Banned Again
Edit
On October 4th 2010, the Uraby210Productions account was suspended. The series can now be found on Uraby210's Dailymotion account (see above) and a new YouTube account, Uraby210Incorporated. All episodes from 1 to 11 (and the outtakes special) were re-uploaded with slight adjustments in order to fool YouTube's blacklist filter. Unfortunately, FUNimation still pulled Episode 5 Part 1.
Episode 12 was released on October 14th, the first new episode to be uploaded onto the third account. It covered the next two episodes of the Loguetown Arc. Soon after, Toei pulled everything except Episodes 7 and 12. A counter-claim was immediately issued.
Another outtakes special, "The Mind of Munjeej", was released exclusively on YouTube on October 17th.
A trailer for Episode 13, entitled "Meet Tashigi", was released on October 20th.
Episode 13 itself was relesed on October 25th. It covered the first two episodes of the Loguetown Arc proper. So far, it is the shortest episode of the series, at only 8 minutes and 22 seconds in length. This was the first full episode to feature Luffydaman91 as Tashigi (although he had previously appeared in the aforementioned trailer). This was also the first episode to use "Believe" for the opening instead of "We Are!".
All episodes (save for Episode 5 Part 1) were re-instated when the counter-claim expired on November 4th.
Back in the Game...Kind Of
Edit
Episode 14, covering the "Daddy Masterson" filler episode, was released on November 21st. This was the first (and so far only) episode to be written by Munjeej and then revised by Uraby210, rather than the other way around (however, Munjeej had previously written a draft script for Episode 6, not all of which was used in the finished video).
Two days later, Episodes 12 and 13 were removed, followed by Episode 14 a day later, resulting in the termination of the account. Counter-claims were then issued.
Since the YouTube account was still down, Episode 15 was released on December 7th, but only on DailyMotion. It covered the "cookery contest" filler episode.
On December 9th, Uraby210 made a fourth account, Uraby210Regenerated, and stated that this would be used solely as a backup account, once the main account came back, and that he would only ever post the newest episode on this account, so that it could never be taken down.
The Uraby210Incorporated account was reactivated on Christmas Day.
Episode 16, covering the final two episodes of the Loguetown Arc, was released on December 27th. This was the first episode to feature Munjeej as Captain Smoker, following a recasting decision made during production of Episode 14.
On January 3rd, Uraby210 uploaded a video featuring Munjeej responding to GrandLineStudios' comments on the Uraby210Incorporated channel.
Four days leter, Uraby210 released a trailer for the upcoming Episode 17, entitled "Apis and the Ericmen", in homage to "Delta and the Bannermen".
On January 9th, Uraby210 uploaded the full version of Episode 5, which had not been available on YouTube since the end of July due to it being pulled by FUNimation. However, the video had to be sped up by 5% to get under YouTube's duration limit, and this is particularly noticeable during the disclaimer and opening.
Episode 17, covering the entirety of the Warship Island Arc, was released on Dailymotion on January 17th, and then on YouTube the following day. This was the first episode to include experimental censor bleeps (on the YouTube release only). This episode served as Uraby210's entry to the January 2011 Abridging Contest. Episode 17 is the longest episode released so far, at 18 minutes and 4 seconds in length.
On January 24th, Uraby210 started a Twitter feed for the series and posted a video on YouTube informing the fans of this development.
Episode 18, covering the Laboon Arc, was released on February 20th, two days later than advertised due to editing delays and unavailability of cast for recording of Episode 19, necessitating a reschedule. Episode 18 featured a guest appearance from tonyfinn1, later known as FoulFangedFiend, the creator of Doctor Who Abridged.
Episode 19 was eventually released on March 6th, following delays that had a knock-on effect for the following two episodes. It covered the first three episodes of the Whiskey Peak Arc.
Episode 20, covering the final episode of the Whiskey Peak Arc, was released on March 19th, two days after its advertised premiere.
On March 26th, Uraby210 announced on Twitter that he had begun writing the script for a "super secret special" episode, to be released in April.
Episode 21, covering the "Diary of Coby-Meppo" episodes, was released on April 2, two days after its posted release date. The YouTube release was sped up by 5% to stay under the 15-minute limit, so Uraby210 included a link to the DailyMotion version, which did not suffer from this problem.
On April 12th, the "super secret special" episode was revealed to be the 1st Anniversary Special. It consisted of several short sketches that were supposedly "left out" of earlier episodes. It also contained Martialmichael126's first appearance as Mr 3.
Episode 22, covering the first half of the Little Garden Arc, was released on April 29th. It was the third episode to premiere on DailyMotion before YouTube, following Episodes 10 and 15. It was the first regular episode to feature Martialmichael126 as Mr 3.
Episode 23, covering the second half of the Little Garden Arc, was released on May 15th.
Episode 24, covering the first two episodes of the Drum Kingdom Arc, was released on May 27th. It weas the first episode to guest star purpleeyeswtf as Chess.
Gaining Popularity
Edit
After Episode 24 was released, Uraby210 received a massive influx of subscribers. His subscriber count increased by over 30% in just three days. This was due to purpleeyeswtf liking Episode 24, which showed up in his YouTube activity feed, and some of his 12,000 subscribers decided to take a look.
Episode 25 was released on June 17th, covering the Straw Hats's arrival in the Drum Kingdom. Once again, it featured purpleeyeswtf in the role of Chess.
Episode 26, covering Chopper's introduction and backstory, was originally intended to be released on June 28th, but this proved impossible, due to WispaGoldMS attending the Glastonbury Festival before she had recorded her material for this episode. This forced Uraby210 to move the entire production schedule forwards by a week. purpleeyeswtf was originally intending to appear in this episode, but had to pull out due to real-life commitments. The episode was eventually released on July 6th.
On July 8th, Episodes 18 through 21 were removed from YouTube.
On July 17th, Uraby210 uploaded the Episode 1 Remastered Edition, which was a remake of Episode 1 made to the standard of the most recent episodes. However, four days later this video was removed, resulting in the termination of the account once again.
The account was reinstated on August 20th, but this suspension had caused massive delays to production, and Episode 27 was released on August 25th, almost four weeks after its planned finishing date. This episode featured purpleeyeswtf returning to the role of Chess, and it was originally planned for him to also appear as the None Piece version of Luffy, but only a few days before the episode was finished, he backed out, citing undisclosed issues. It was far too late to re-write the episode to account for his absence, so the only course of action was for Uraby210 to stand in for purpleeyes and record the lines himself. Upon hearing this version of his character, purpleeyeswtf commented that it was "excellent". This episode also featured the first appearance of TemplarKnight2012 as Dalton (or possibly Rassilon), in the beginning of a crossover with Tony Finnegan's Doctor Who Abridged.
On September 15th, Episode 28 was released, which brought the Drum Kingdom Arc to an end.
Future Voyages
Edit
Watch this space...
List of Episodes
Edit
Ep#
Episode Name
Release Date
Length
Episodes Abridged
Uraby210 as:
Munjeej as:
WispaGoldMS as:
Mr. Calm as:
Also starring:
1
"No Country for Rubber Men"
April 12th, 2010
09:32
1
Luffy, Coby, Alvida, Shanks
Nami, Makino
2
"The Hunter Becomes the Hunted"
April 16th, 2010
08:37
2-3
Luffy, Coby, Morgan, Helmeppo, Ripper
Nami
3
"When Luffy Met Sharky"
April 25th, 2010
09:11
4
Luffy, Shanks, Yasopp, Lucky Roo, Woop Slap
Higuma
Makino
Rabidfishy as Arlong
4
"...Itty Bitty Buggy Boogy Bumper Babysitting Service? "
June 21st, 2010
18:02
5-8
Luffy, Buggy, Mohji, Shanks
Mayor Buggles
Nami
Cabaji
5
"Card Carrying Coward"

July 4th, 2010

15:48
9-17
Luffy, Kuro, Django, Merry
Usopp
Nami, Kaya
6
"MAROONED on CANNIBAL ISLAND! (No, not really.)"
July 18th, 2010
10:16
18
Luffy, Gaimon
Usopp
Nami
7
"Flashback Tiemz!"
July 30th, 2010
12:51
19
Luffy, Young Zoro, Koshiro
Usopp, Johnny
Nami, Kuina
8
"Hungry Hungry Pirates"
August 18th, 2010
15:20
20-24
Luffy, Sanji, Zeff, Don Krieg, Mihawk, Yosaku
Usopp, Johnny, Ghin, Patty
Nami, Moodie
Fullbody
9
"Nami's a Bitch, Then You Die"
September 1st, 2010
15:00
25-30
Luffy, Sanji, Zeff, Don Krieg, Mihawk, Pearl, Yosaku
Usopp, Ghin, Patty
Nami
10
"A Fishy Tale"

September 22nd, 2010 (DM)

September 23rd, 2010 (YT)

15:30
31-43
Luffy, Sanji, Yosaku, Hatchan, Chew, Pudding Pudding
Usopp, Johnny, Genzo, Kuroobi
Nami, Nojiko
Rabidfishy as Arlong
11
"Bounty on the Mutiny"
October 2nd, 2010
11:01
44-45
Luffy, Sanji, Coby, Yosaku, Shanks, Mihawk, Lucky Roo
Usopp, Johnny, Yasopp, Genzo, John Giant
Nami, Nojiko
Fullbody
12
"Whatever Happened to...Buggy?"
October 14th, 2010
10:28
46-47
Luffy, Sanji, Buggy, Alvida, Gaimon, Mohji
Usopp, Mayor Buggles
Nami
Cabaji
13
"In Soviet Russia, Loguetown Arrives at YOU!"
October 25th, 2010
08:22
48-49
Luffy, Sanji, Smoker, Buggy, Alvida, Raoul
Usopp, Gold Roger, Ippon Matsu
Nami
Cabaji
Luffydaman91 as Tashigi
14
"Who's Your Daddy, Bitch?"
November 21st, 2010
10:32
50
Smoker, Daddy Masterson, Shanks, Lucky Roo
Usopp, Yasopp
Nami, Carol
Luffydaman91 as Tashigi
15
"WTFood"

December 7th, 2010 (DM)

December 10th, 2010 (YT)

10:38
51
Sanji, Leo, José, Sapi
Usopp
Nami, Carmen
16
"Buggy Got Back"
December 27th, 2010
15:19
52-53
Luffy, Sanji, Buggy, Alvida, Dragon
Usopp, Smoker
Nami
Cabaji
Luffydaman91 as Tashigi
17
"Waking the Dragons"

January 17th, 2011 (DM)

January 18th, 2011 (YT)

18:04
54-61
Luffy, Sanji, Eric
Usopp
Nami, Apis

TheHydeisme as Bokuden

RobobPrime as Nelson

18
"Having a Whale of a Time"
February 20th, 2011
13:26
62-63
Luffy, Sanji, Mr 9
Usopp, Yorki
Nami, Miss Wednesday
FoulFangedFiend as Crocus
19
"Zoro's Best Day Ever"

March 6th, 2011

13:41
64-66
Luffy, Sanji, Mr 9, Miss Monday, Carue
Usopp, Mr 5
Nami, Miss Wednesday, Miss Valentine

TheFightingMongoose as Mr 8

20
"Princesses? In MY Baroque Works?"
March 19, 2011
9:51
67
Luffy, Sanji, Miss All-Sunday, Carue
Usopp
Nami, Vivi
TheFightingMongoose as Igaram
21
"Everybody Hates Coby"
April 2nd, 2011
15:49
68-69
Luffy, Sanji, Coby, Helmeppo, Morgan, Ripper
Usopp, Garp
Nami, Vivi
22
"Big Trouble in Little Garden"

April 29th, 2011 (DM)

April 30th, 2011 (YT)

12:41
70-73
Luffy, Sanji, Broggy, Carue
Usopp, Mr 5, Dorry
Nami, Vivi, Miss Valentine, Miss Goldenweek
martialmichael126 as Mr 3
23
"Who Said We're Wax?"
May 15th, 2011
14:57
74-77
Luffy, Sanji, Crocodile, Miss All-Sunday, Broggy, Carue
Usopp, Mr 5, Dorry
Nami, Vivi, Miss Valentine, Miss Goldenweek
martialmichael126 as Mr 3
24
"In Sickness & in Wapol"
May 27th, 2011
9:27
78-79
Luffy, Sanji, Carue
Usopp, Wapol, Smoker, Kuromarimo
Nami, Vivi

Luffydaman91 as Tashigi

purpleeyeswtf as Chess

25
"There's No Business Like Snow Business"
June 17th, 2011
12:49
80-82
Luffy, Sanji, Kureha, Dalton
Usopp, Wapol, Kuromarimo
Nami, Vivi, Chopper
purpleeyeswtf as Chess
26
"Uh Eeh Uh Ah Ah Ting Tang Chopper Chopper Bing Bang"
July 6th, 2011
12:46
83-86
Luffy, Sanji, Kureha, Dalton
Usopp, Wapol, Hiruluk, Kuromarimo
Nami, Vivi, Chopper
27
"Let's Get Ready for RUMBLE BALLS!"
August 25th, 2011
13:34
87-89
Luffy, Sanji, Kureha, Dalton
Usopp, Wapol, Kuromarimo
Nami, Vivi, Chopper
purpleeyeswtf as Chess
28
"Pink Sky at Night, Chopper's Delight"
September 15th, 2011
12:08
90-91
Luffy, Sanji, Kureha
Usopp, Hiruluk
Nami, Vivi, Chopper
TemplarKnight2012 as Dalton
Main Characters
Edit
Cast
Voice Actor
Monkey D. Luffy
Uraby210
Roronoa Zoro

Father Jack Hackett

Uraby210 (in flashback sequences in Episode 7)

Nami
WispaGoldMS
Usopp
Munjeej
Sanji
Uraby210
Tony Tony Chopper
WispaGoldMS
Nico Robin
Uraby210
Franky
Mr. Calm
Brook
Uraby210
Major Minor Characters (in order of appearance)
Edit
Cast
Voice Actor
Red-Haired Shanks
Uraby210
Coby
Uraby210
Arlong
Rabidfishy
Buggy the Clown
Uraby210
Silvers Rayleigh
Uraby210
Captain Kuro
Uraby210
Kuina
WispaGoldMS
Johnny
Munjeej
Yosaku
Uraby210
Red-Foot Zeff
Uraby210
Don Krieg
Uraby210
Hawkeye Mihawk
Uraby210
Hatchan
Uraby210
Gol D. Roger
Munjeej
Smoker

Uraby210 (in Episodes 13 & 14)

Munjeej (from Episode 16 onwards)

Tashigi
Luffydaman91
Monkey D. Dragon
Uraby210
Princess Vivi Nefertari
WispaGoldMS
Crocus
FoulFangedFiend
Igaram
TheFightingMongoose
Mr 5
Munjeej
Miss Valentine
WispaGoldMS
Carue
Uraby210
Vice-Admiral Garp
Munjeej
Mr 3
MartialMichael126
Sir Crocodile
Uraby210
Wapol
Munjeej
Dr Kureha
Uraby210
Dalton

Uraby210 (in Episodes 25-27)

TemplarKnight2012 (from Episode 27 onwards)

Dr Hiruluk
Munjeej
Mr 2 Bon Clay
Uraby210
Chaka
Uraby210
Pell
WispaGoldMS
Koza

Mr. Calm

WispaGoldMS (in flashback sequences in Episode 32)

King Cobra
Munjeej
Mr 1
Uraby210
Bellamy
Uraby210
Blackbeard
Munjeej
Montblanc Cricket
Mr. Calm
Donquixote Doflamingo
Uraby210
Whitebeard
Uraby210
Wyper
Munjeej
Gan Fall
Munjeej
Shura
Uraby210
Ohm
Munjeej
Gedatsu
Mr. Calm
Eneru
Uraby210
Foxy
Uraby210
Aokiji
Mr. Calm
Kokoro
Uraby210
Iceberg
Uraby210
Califa
WispaGoldMS
Kaku
FoulFangedFiend
Tilestone
Uraby210
Peeply Lulu
Munjeej
Blueno
Munjeej
Tom
Munjeej
Spandam
TheHydeisme
Kumadori
Uraby210
Jabra
Mr. Calm
Nico Olvia
Uraby210
Dr Hogback
Uraby210
Lola
Uraby210
Oars
Uraby210
Bartholomew Kuma
Uraby210
Caimie
WispaGoldMS
Pappag
Munjeej
Duval
Uraby210
Kizaru
Munjeej
Marguerite
WispaGoldMS
Vice-Admiral Momonga
Munjeej
Domino
WispaGoldMS
Magellan
Munjeej
Saldeath
Uraby210
Inazuma
WispaGoldMS
Akainu
Uraby210
Minor Minor Characters (also in order of appearance)
Edit
Cast
Voice Actor
Ironclub Alvida
Uraby210
Poppoko

Uraby210 (in original Episode 1)

Munjeej (in remastered Episode 1)

Peppoko
Uraby210
Makino
WispaGoldMS
Captain Morgan
Uraby210
Helmeppo
Uraby210
Sergeant Ripper
Uraby210
Yasopp

Uraby210 (in Episode 3)

Munjeej (from Episode 11 onwards)

Lucky Roo
Uraby210
Higuma
Munjeej
Woop Slap
Uraby210
Mayor Boodle
Munjeej
Mohji
Uraby210
Cabaji
Mr. Calm
Kaya
WispaGoldMS
Django
Uraby210
Merry
Uraby210
Gaimon
Uraby210
Koshiro
Uraby210
Ironfist Fullbody
Mr. Calm
Moodie
WispaGoldMS
Ghin
Munjeej
Patty
Munjeej
Pearl
Uraby210
Kuroobi
Munjeej
Chew
Uraby210
Pudding Pudding
Uraby210
Nojiko
WispaGoldMS
Genzo
Munjeej
Brandnew
Uraby210
Bear Claw Tribe
Munjeej
Raoul
Uraby210
Ippon Matsu
Munjeej
Daddy Masterson
Uraby210
Carol Masterson
WispaGoldMS
Carmen
WispaGoldMS
José
Uraby210
Leo
Uraby210
Sapi
Uraby210
Apis
WispaGoldMS
Nelson Royale
RobobPrime
Eric
Uraby210
Bokuden
TheHydeisme
Mr 9
Uraby210
Yorki
Munjeej
Miss Monday
Uraby210
Miss Goldenweek
WispaGoldMS
Dorry
Munjeej
Broggy
Uraby210
Chess
PurpleEyesWTF
Kuromarimo
Munjeej
Puupuu
Munjeej
Barbarossa
Munjeej
Rasa
WispaGoldMS
Camu
Uraby210
Toto
FoulFangedFiend
Miss Doublefinger
WispaGoldMS
Miss Merry Christmas
Uraby210
Mr 4
Uraby210
Mr 7
Munjeej
Miss Father's Day
WispaGoldMS
Rice-Rice
Uraby210
Tajio
WispaGoldMS
Odama
Uraby210
Kodama
WispaGoldMS
Billy
Uraby210
Dick
Mr. Calm
Harry
WispaGoldMS
Minchy
Uraby210
Moore
Uraby210
Rapanui Pasqua
Uraby210
Isoka
WispaGoldMS
Henzo
Munjeej
Lake
Uraby210
Wetton
Uraby210
Masira
Munjeej
Roshio
Munjeej
Doc Q
Uraby210
Sarquiss
Munjeej
Lily
WispaGoldMS
Muret
WispaGoldMS
Shojo
Uraby210
Jesus Burgess
Mr. Calm
Van Auger
Uraby210
Lafitte
WispaGoldMS
Rockstar
Munjeej
Amazon
Uraby210
Conis
WispaGoldMS
Pagaya
Uraby210
McKinley
Mr. Calm
Aisa
WispaGoldMS
Braham
Uraby210
Kamakiri
FoulFangedFiend
Genbo
Mr. Calm
Yama
Uraby210
Hotori
Uraby210
Kotori
WispaGoldMS
Jessica
Uraby210
Hamburg
FoulFangedFiend
Chimney
WispaGoldMS
Corgi
Munjeej
Zanbai
Munjeej
T-Bone
Uraby210
Oimo
Uraby210

Jaguar D. Saul

Uraby210
Professor Clover
Uraby210
Vice-Admiral Doberman
FoulFangedFiend
Vice-Admiral Onigumo
Uraby210
Auntie
Uraby210

Don Achino

Uraby210
Jiro
WispaGoldMS
Lil
WispaGoldMS
Hockera
FoulFangedFiend
Hildon
Uraby210
Victoria Cindry
WispaGoldMS
Ryuma
Uraby210
Doran
Uraby210
Sayo
WispaGoldMS
Saint Charloss
Uraby210
Bepo
Uraby210
Aphelandra
Uraby210
Elder Nyon
WispaGoldMS
Haredas
FoulFangedFiend
Heracles
Uraby210
Yoko
WispaGoldMS
Fabre
Munjeej
Luigia
Uraby210
Whitey Bay
WispaGoldMS
Jozu
Mr. Calm
(a casting in italics denotes that this character has not yet appeared)
Running Gags
Edit
Characters explain impossible deus ex machina as "Sailor Logic". (First appearance: Episode 1)
Luffy refers to his Devil Fruit powers as "crazy-ass superpowers". (First appearance: Episode 1)
Characters occasionally look at the script for the next episode in order to ascertain what they're supposed to be doing. (First appearance: Episode 1)
Zoro only speaks in soundbites from Father Ted. (First appearance: Episode 1)
When characters are about to use a finishing move, they power up similarly to Vegeta from Dragon Ball Z, even down to the music and dialogue. (First appearance: Episode 4)
A mysterious voice says "Epic foreshadowing!" whenever a character inadvertently references future events in the series (First appearance: Episode 4)
Usopp introduces himself by exclaiming "Hello, it is I, Usopp!". (First appearance: Episode 5 trailer)
Only Johnny and Yosaku can understand what Zoro is really saying. (First appearance: Episode 7)
Sanji is actually a terrible cook. (First appearance: Episode 8)
Continuity errors caused by using footage out of sequence are given unlikely explanations via annotations (First appearance: Episode 9) (appears on YouTube release only)
Characters sometimes refer to Sanji as a "combat lawyer". (First appearance: Episode 9)
The Sniper from Team Fortress 2 resides as a schizophrenic alter-ego inside Usopp's brain, and occasionally offers advice, insults or just insanity as a method of Usopp coping with his loneliness and the loss of his parents. Usopp's skills as a sniper are attributed to the teachings of this disembodied Australian entity. (First appearance: Episode 10)
Tashigi constantly mispronounces the word "sword". (First appearance: Episode 13 trailer)
From time to time, we take cheap shots at TeamNakama, since they were quite rude to us some time ago. (First appearance: Episode 13)
Monkey D. Dragon believes himself to be Frog Jesus. (First appearance: Episode 16)
All the characters exclaim loudly every time anybody says "a whale". (First appearance: Episode 18)
Sanji is terrified by Angry Birds. (First appearance: Episode 22)
Transponder Snails are only ever used for prank calls. (First appearance: Episode 23)
Kuromarimo calls everybody a douche in an annoying voice. (First appearance: Episode 24)
Ace thinking anything can be solved with fire (First appearance: Episode 30)
Ad blocker interference detected!
Wikia is a free-to-use site that makes money from advertising. We have a modified experience for viewers using ad blockers

Wikia is not accessible if you've made further modifications. Remove the custom ad blocker rule(s) and the page will load as expected.