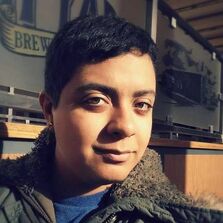 Constantine "Whip0fAlchemy" Angelos has been voice acting for parodies since 2006. He started parody making as one of the members behind Megami33's Sailor Moon Abridged, aka SMA, playing various villains including the devilishly evil and handsome, Malachite. He has also made a guest appearance on Team Four Star's Dragonball Z Abridged as Mrs. Briefs [for a brief period ha!] and some extras. He can also be heard as Shizuku Sango in MasakoX's Kampfer Abridged, Ino Yamanaka in LittleKuriboh's Naruto The Abridged Comedy Fandub Spoof Series Show aka Ninjabridge, as well as characters from both hbi2k's shows, Gantz TAS and Vision of Escaflowne TAS. He enjoys writing on his spare time including helping out with his fiancé, LordQuadros, by voicing for his Metal Gear Abridged. 
One of the interesting things about Constantine is his love for history especially, when researching his cultural roots. He also enjoys studying languages such as Japanese and Turkish [which is his favorite Hetalia character]. While voice acting is a fun hobby he continues to pursue, Constantine hopes to one day be a historian and learn about the world as much as possible.
Projects
Edit
Appearances/Cameos
Edit
Ad blocker interference detected!
Wikia is a free-to-use site that makes money from advertising. We have a modified experience for viewers using ad blockers

Wikia is not accessible if you've made further modifications. Remove the custom ad blocker rule(s) and the page will load as expected.