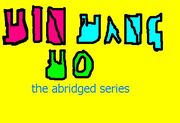 Yin Yang Yo The Abridged Series

Created By

Distribed By

Air Date

25th August 2011

Starring

2nd Manager

Number Of Episodes

55 (All 4 Series)

Setting

Carlos City, 2010

1542

Written By

Diercted By

Proucder
This show is related to Rachet And Clank Abridged (2012)
Yin Yang Yo The Abridged Series is a show created by PremierChannel and created by Andrew Batchelor coming next year (2011)
Characters
Edit
Andrew (Andrew Batchelor)
Georgia (Georgia McLaggan)
Patrick (Andrew Batchelor)
Yuck (Andrew Batchelor)
TBA (Rachel Walker)
Yo's Grandad (TBA)
Yo's Grandmother (TBA)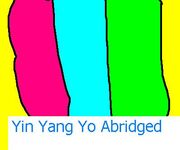 Series 1 Episodes
Edit
For the wiki for this show go to www.yinyanyotheabrigedseries.co.uk
The Rabbits
Andy Babytots
Fish Doods Return
Yang In Wonderland
The Plot
The Dancing Queen
Hair Wars
Help Me
Rabbits On Deck
In Deck Jail
The House Of Nightmares
The Horror Of A Video Game
Yo's Episode
WooFoo Isn't Just Fighting, It's Magic Too
Church Attack
Series 2 Episodes
Edit
The Beast With A Billon Backs
Carol's Super Evil Group
Yo's Master
Gotta Fellin'
A Hurtful Fairytale
A Fish's Story
Evil Carl
Killing Decks
Wide Ranges
A Old Friend
The Planet Zoginthinham
The Time Of The Hypnotoad
Who Has Hair
Series 3 Episodes
Edit
A Range Of Ideas
On The Sea Again
The Coldest Place On Earth
Devils To Angels
The Attack Of Heaven And Hell/Heaven v.s Hell
Georgia's Choice
The Tomb Of Hair Girl
An Army Of Fish
A Fish Life
The Evil Of The Cats
The Beast Returns
Mess Of The City
The Underwater Beast
Series 4 Episodes
Edit
The New Enmey
Monker's Reveange
Monkey's In The Spooks
Titanic
Girl Of Hair
Victory Of Hair Girl
The Cats Of The Band
Old Guy In The Mood
Yuck Returns
The Flesh Of A 7 Leaf Clover
Ireland's Revenge
Andy Come Here
The Rule Of A Baby
Series 5 Episodes
Edit
Series 5 will be dated on 25th August 2010.
The Death Of Yo
Fighting For The Future
The Battle Bots
Fish Dood Strikes Again
YouTube Yin
Vampries Of Rome
Yin's Choice
The Freedom Of Death
Nearly - The End
YinteenYang
Series 5 - Cast
Edit
Yin - Andrew Batchelor
Yang - TBA
Yo - TBA
Coop - Andrew Batchelor
Night Master - TBA
Andrew - Andrew Batchelor
Holly - TBA
Yolo - TBA
Yuck - Andrew Batchelor
TBA - TBA
Yo's Grandad - TBA
Yo's Gran - TBA
Ad blocker interference detected!
Wikia is a free-to-use site that makes money from advertising. We have a modified experience for viewers using ad blockers

Wikia is not accessible if you've made further modifications. Remove the custom ad blocker rule(s) and the page will load as expected.