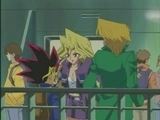 Episode Synopsis
Edit
In this episode, Yugi decides to go to Duelist Kingdom, and we get introduced to Joey's sister, Serenity. We also see the gang board the ship to Deulist Kingdom, either by boarding directly or by sneaking on (in the case of Tea and Tristan). Once on board, we meet Mai Valentine, and Weevil throws Yugi's Exodia cards overboard. After Joey jumps in after the cards, and is subsequently saved by Yugi, the ship arrives at Duelist Kingdom.
References
Edit
Ad blocker interference detected!
Wikia is a free-to-use site that makes money from advertising. We have a modified experience for viewers using ad blockers

Wikia is not accessible if you've made further modifications. Remove the custom ad blocker rule(s) and the page will load as expected.