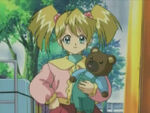 Episode Synopsis
Edit
This episode finally reunites Yugi and his grandpa. Later, the whole gang is walking down the street when they encounter Rebecca and her demonic teddy bear. Rebecca accuses Solomon of stealing her Blue Eyes, and Yugi duels Rebecca to defend his grandpa. Solomon then flashbacks to the time he spent excavating in Egypt with Rebecca's grandpa. Yugi then loses the duel, although, as Rebecca's grandpa points out, he could have won, so he is deemed the winner anyway.
References
Edit
Ad blocker interference detected!
Wikia is a free-to-use site that makes money from advertising. We have a modified experience for viewers using ad blockers

Wikia is not accessible if you've made further modifications. Remove the custom ad blocker rule(s) and the page will load as expected.