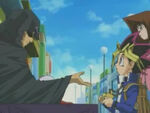 Episode Synopsis
Edit
This episode introduces Marik into the storyline. Marik, controlling Bandit Keith, has Keith steal Yugi's puzzle, forcing him to duel over it. As the building where the duel is taking place catches fire, Joey, Tristan, and Tea arrive to help Yugi escape. Bandit Keith then breaks the puzzle, and Bakura arrives to help Yugi put it back together. Yami Bakura puts his soul into a piece of the puzzle and then escapes. Joey and Tristan manage to break into the building and save Yugi and the puzzle.
References
Edit
Ad blocker interference detected!
Wikia is a free-to-use site that makes money from advertising. We have a modified experience for viewers using ad blockers

Wikia is not accessible if you've made further modifications. Remove the custom ad blocker rule(s) and the page will load as expected.