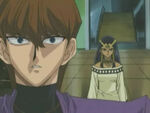 Episode Synposis
Edit
This episode introduces Ishizu, who can see the future and break the fourth wall. She holds an Egyptian exhibit and invites Kaiba down, explaining how he and Yugi are reincarnations of an ancient pair of Egyptian Duelists and they are destined to duel again. Ishizu then asks Kaiba to hold a tournament and gives him Obelisk the Tormentor to persuade him. Throughout the episode, Yugi is having a character crisis, thinking that he isn't very important to the plot and that Yami Yugi is the important one.
References
Edit
Ad blocker interference detected!
Wikia is a free-to-use site that makes money from advertising. We have a modified experience for viewers using ad blockers

Wikia is not accessible if you've made further modifications. Remove the custom ad blocker rule(s) and the page will load as expected.