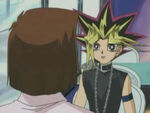 Episode Synopsis
Edit
This episode details a date between Yami and Tea. They travel around Domino City, eventually ending up in an arcade. In the arcade, Tea battles a man named Johnny Steps in DDR, and wins. Later, Steps confronts Tea and Yami, angry over his defeat, and Yami challenges Steps to a card game. Part way into the duel, Steps realizes Yami is the King of Card Games, and surrenders. Tea then gives a friendship speech that she had been holding in all day.
References
Edit
Ad blocker interference detected!
Wikia is a free-to-use site that makes money from advertising. We have a modified experience for viewers using ad blockers

Wikia is not accessible if you've made further modifications. Remove the custom ad blocker rule(s) and the page will load as expected.