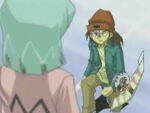 Episode Synopsis
Edit
This episode has Joey duelling the faux-psychic Espa Roba. Joey has a difficult time at first, because Espa's younger siblings are helping him to cheat. However, after Mokuba thwarts the Roba siblings' attempts to cheat, Joey is able to defeat Espa and take his rarest card, Jinzo.
References
Edit
Ad blocker interference detected!
Wikia is a free-to-use site that makes money from advertising. We have a modified experience for viewers using ad blockers

Wikia is not accessible if you've made further modifications. Remove the custom ad blocker rule(s) and the page will load as expected.