Yu-Gi-Oh! The Abridged Series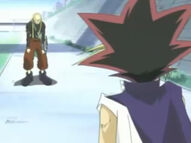 Episode Synopsis
Edit
Yugi and Yami face off against Steve the Mime, who carries Slifer the Executive Producer. Meanwhile, Bakura explores the local museum and Joey is motivated to seek another duellist from Season 1 to challenge.
References
Edit
Ad blocker interference detected!
Wikia is a free-to-use site that makes money from advertising. We have a modified experience for viewers using ad blockers

Wikia is not accessible if you've made further modifications. Remove the custom ad blocker rule(s) and the page will load as expected.